Refresh it, overhaul it, or launch a new business brand.
Is your logo looking a bit tired?
A logo update is a great way to breathe new life into your business. And because you already have a foundation in place, we're able to offer this service at a very reasonable price indeed! Contact us today to find out more.
'My logo is already great, but looks bad when printed'
This is a common problem usually due to the original logo file being lost or saved over as a low-resolution .jpg or .png file. We will re-create your logo in a vector format, which means you can print it as big as you need without any loss of quality. A vector format is ideal for print and large format.
Brand guidelines are a great way to ensure that your company's brand image is displayed correctly every time it is used. They are particularly useful for businesses who have their marketing material produced from more than one source.
Paul Nicholas Design are experts in branding and have the know-how to help establish your consistent visual theme. So every time you communicate to your customers: handing out a business card, posting a letter, the sign on your door, you will be delivering your brand professionally at every possible opportunity which will enhance your company profile.
Whatever your branding requirements, Paul Nicholas Design can create a package to suit your needs and budget.
No matter what industry you operate in, one thing is certain; It's difficult to stand out from the competition. Paul Nicholas Design are here for you! We offer professional logo design that will help your business emerge from the crowd.
In terms of marketing, the foundation of any successful business is having a strong brand identity. And a brand identity begins with owning an attractive, professional and unique company logo.
Yes, you can find many logo design services online that will produce a logo for next to nothing. but we firmly believe that if you want a strong brand identity, then you need a local graphic designer who will take time to understand your requirements, not an anonymous design company that will simply pick a common font and draw a series of funny shapes!
Why choose us?
We always take the time to understand our clients first: what they do, who their customers are, who their competitors are. With better understanding we're able to develop a concept that is perfect for their company.
We love designing logos and take great pride in our work. Get in touch today and see how your business can benefit.
What service do you require?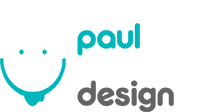 Contact us on: 07508 606 789 or email: info@paulnickdesign.co.uk